Accelerate your Digitalization
Achieve Automation Excellence

Automating the automation creates operational ease,
optimized environments and reduced costs, leading to
exceptional service levels and maximum value delivered
to customers and all RPA stakeholders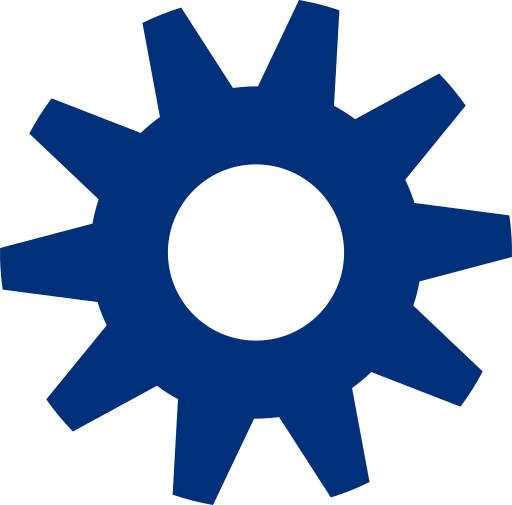 Catalyst Provides Essential Features to Scale Your RPA
Set Your RPA on Autopilot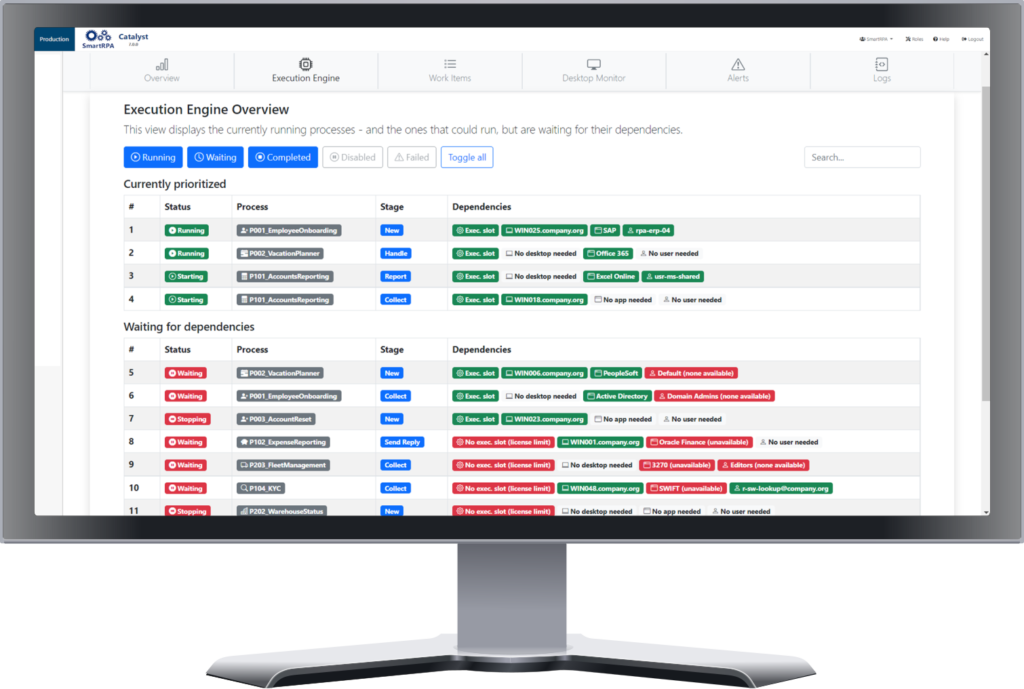 Organizations suffer when growing their RPA
As automation increases – so do operational efforts
Available tools in the RPA toolbox offer limited help – especially on intelligent/operational management
SLA upkeep is jeopardized as automation numbers increase – with excessive amounts of time and effort spent on scheduling, root cause analysis and maintenance.
Organizations will often "solve" this challenge by simply adding FTEs – which only accelerates the problem going forward.
As a result, both the cost of operations increases, and scaling becomes difficult.
Catalyst is purposely built to extend the RPA journey.
Catalyst takes the complexity out of the daily operations – by simply automating it!
Catalyst auto-executes processes in accordance with their SLA and report on any limitations that might prevent this from happening.
With Catalyst's deep understanding of the full RPA environment – including all desktops, systems, users, and processes itself – it becomes possible to take automations to the next level:
Auto-orchestration based on SLA's and process dependencies 

Peak performance management by flatting the curve

Execute around system breakdowns and maintenance periods

Improved resilience due to full insight in RPA environment

Utilize RPA licenses and resources in the most optimal way
Operational Information at Your Fingertips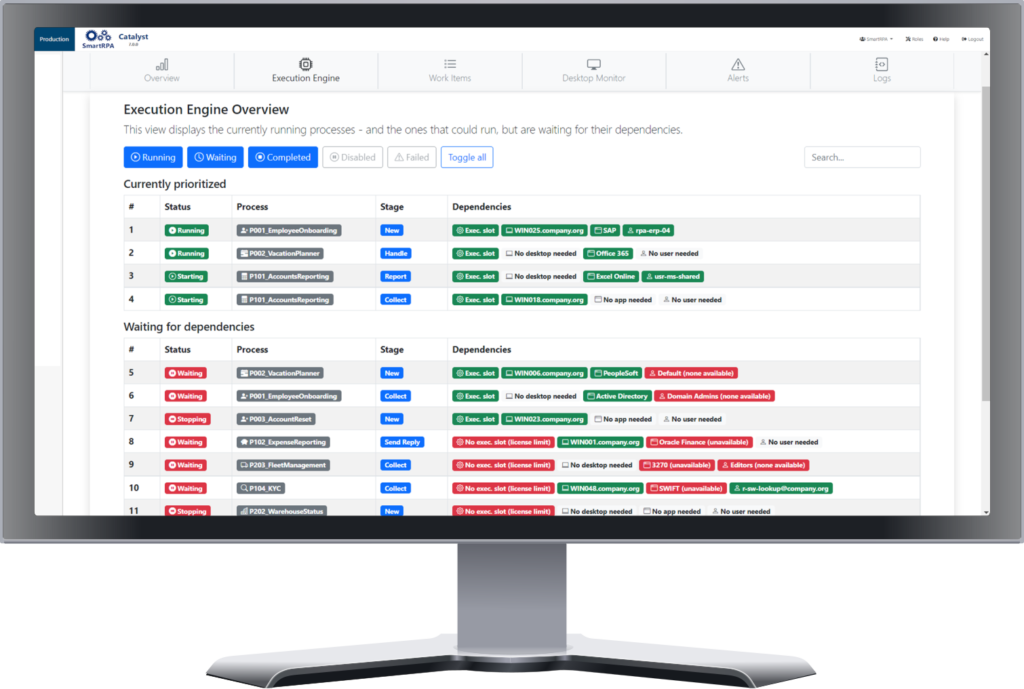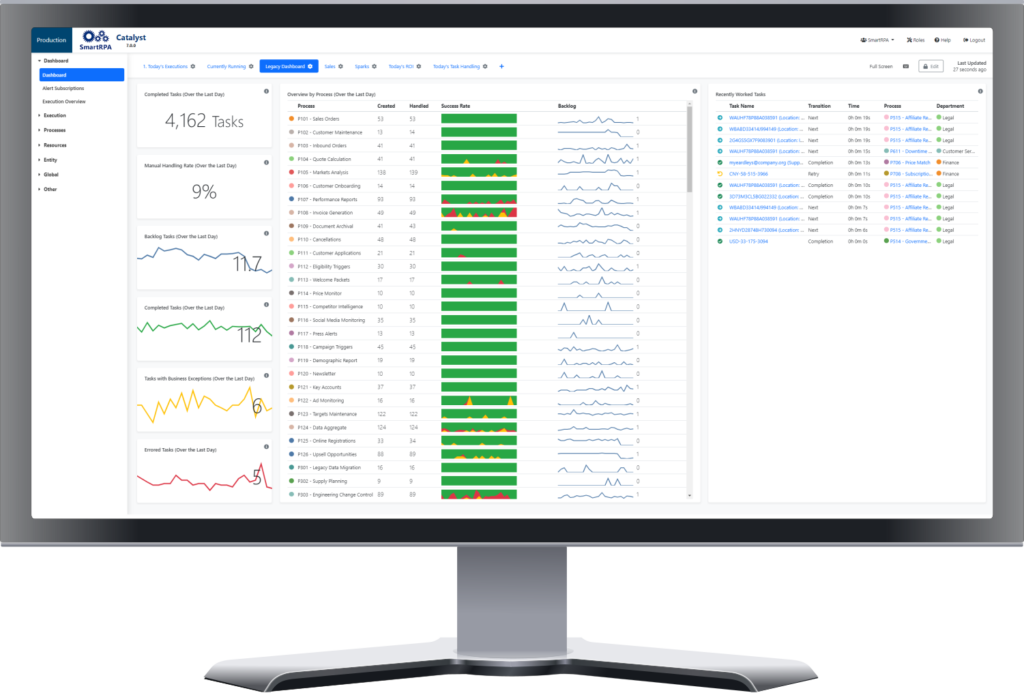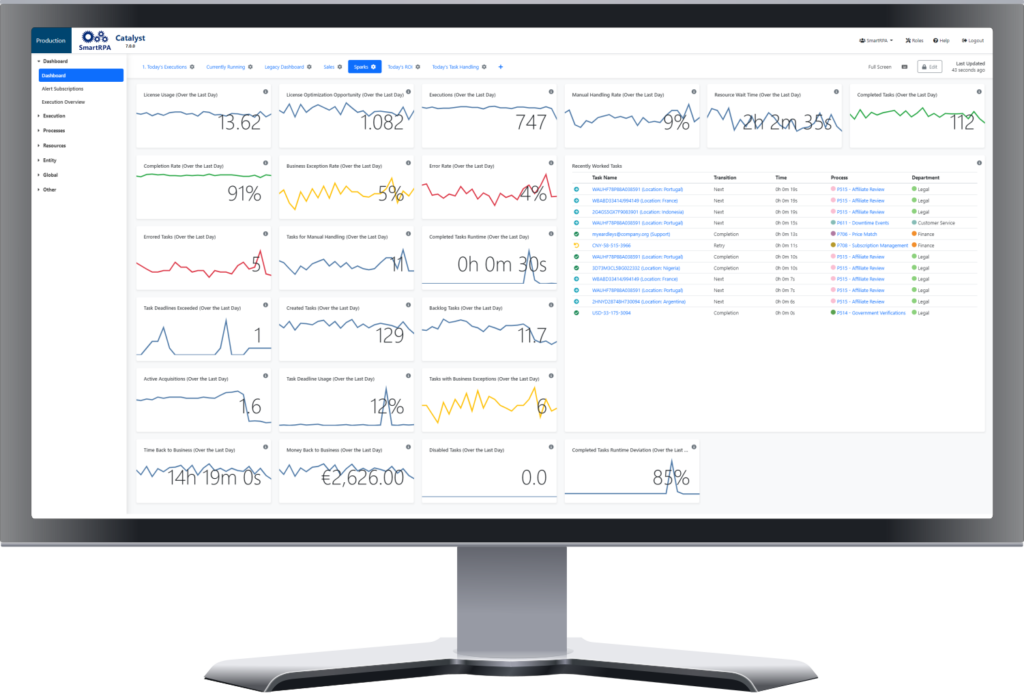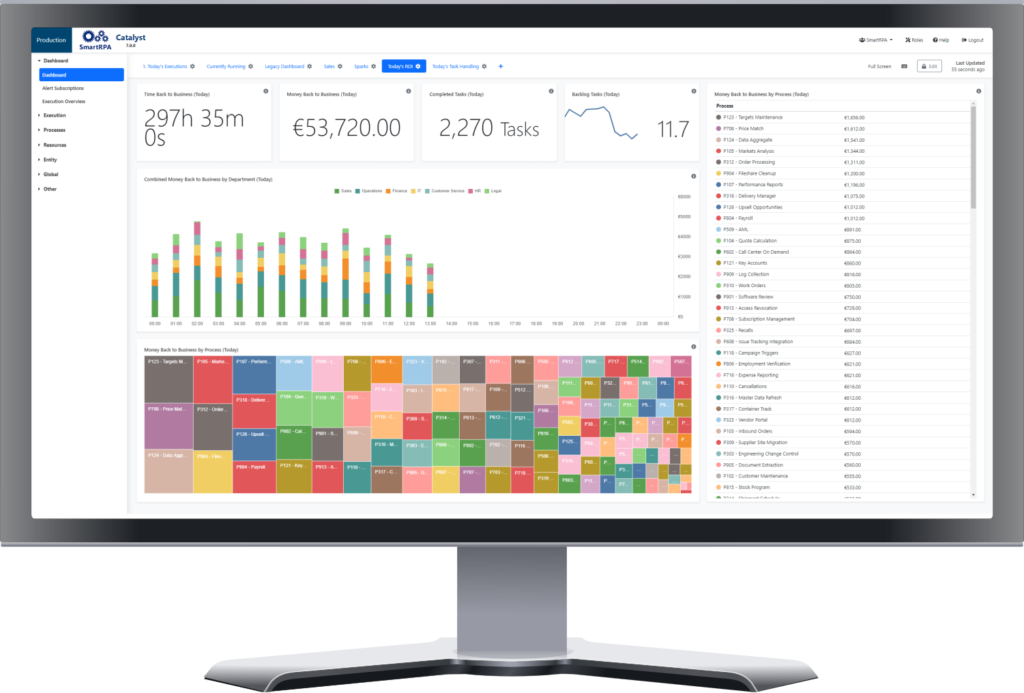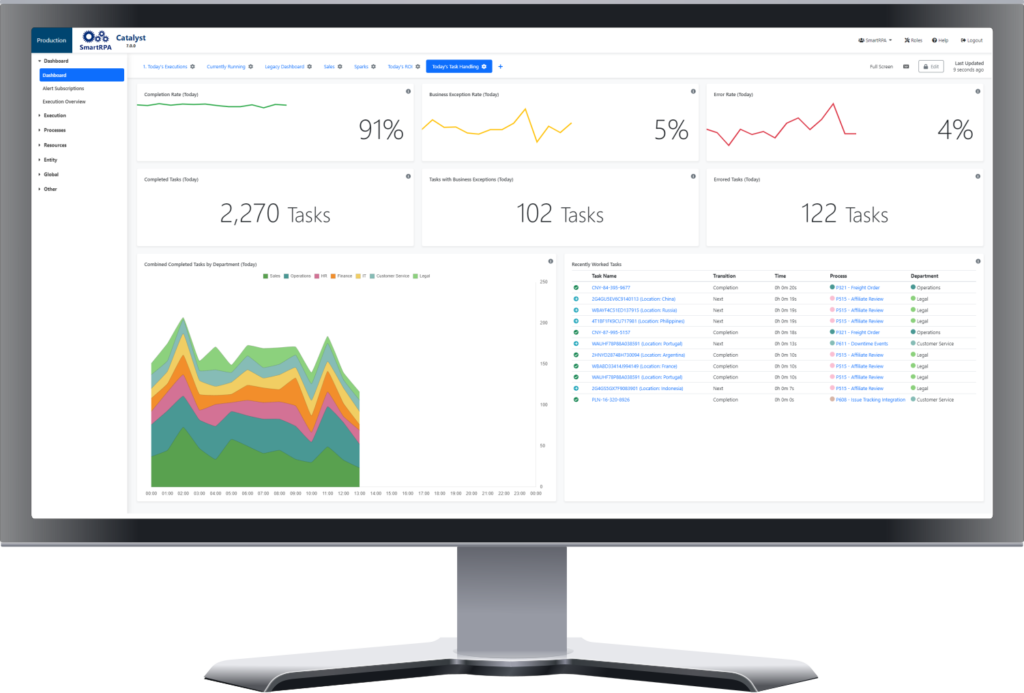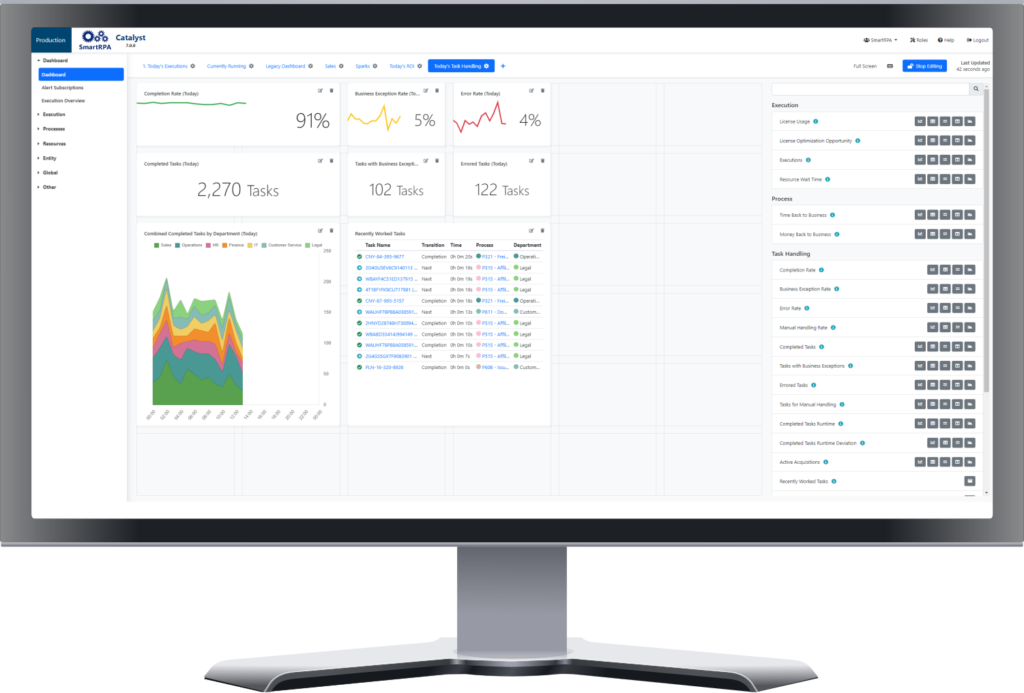 Not having the right information at the right time can and will lead to operational difficulties and imperfect decision making by Management. It can even lead to disastrous breakdowns.
When problems can't be identified – or identified too late – SLAs will suffer and automation teams become frustrated, stressed and overworked.
In the real world of RPA, abnormal events do occur, they occur often and when they do – it's a surprise!
When abnormal events are the rule more than the exception, stakeholders become dissatisfied and places mistrust on the technology – and the Team operating it.
Central to this challenge is RPA platforms not having holistic views of the full environment – this makes it difficult, if not impossible, for RPA Operations to foresee, identify and react to problems in a timely manner.
Often a "learning by doing" approach is adopted. This approach, however, doesn't help to avoid the problem in the first place – and is very person dependent and lacks a systematic approach.
Catalyst reestablishes trust in RPA by providing the right insight at the right time to the right stakeholder – actionable intelligence for Automation Excellence!
Catalyst provides secure, customized and automatic information to all relevant groups, departments and individuals.
Catalyst provides IT with data and early indicators about abnormal behavior in operations.
Catalyst provides RPA operations information about quality of service and notifications relevant to foresee, prevent and fix abnormal system and process behavior.
Catalyst provides Management overview of overall health of RPA Operations, Systems and Dependencies and insight into specific KPIs such as SLA adherence.
Many different process metrics can be sliced and diced
Alerts and notifications can be published on a channel of your choice
Alerts and notifications can be subscribed to by all RPA stakeholders 
Predefined widgets make it easy to customize dashboards
Catalyst is a web application and exposes APIs for all inner functionality
Control and Optimize the Entire Environment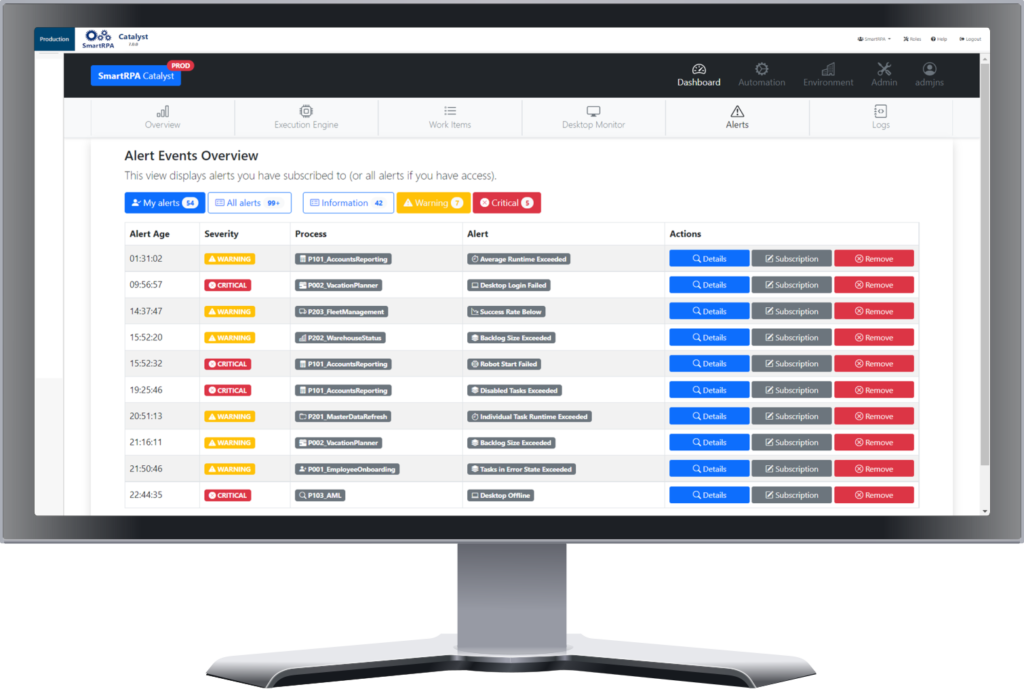 Managing an RPA environment to fully operate is no trivial task.
The foundation for being able to auto-orchestrate an RPA environment is that all resources – credentials, systems, and desktops – are available when orchestrating the processes.
To be able to control credentials, systems and desktops an intelligent insight into authentication, capacity, desktop and system management is needed.
Many RPA initiatives have managed to get a working RPA setup, but typically comes at a high cost.
Catalyst is a purpose-built RPA-centric solution that makes RPA cost-efficient.
SmartRPA Catalyst can coexist with the current RPA infrastructure – or take over the management of credentials, systems, and desktops.
Applying the management part of the Catalyst is easy and provides:
Abnormal behaviour managment – reset, retry, failover
Desktop Management – login, logout, restart, reset and downtime
System Management – availability and capacity
Authentication management – group-based credentials
Capacity Management – resource bottlenecks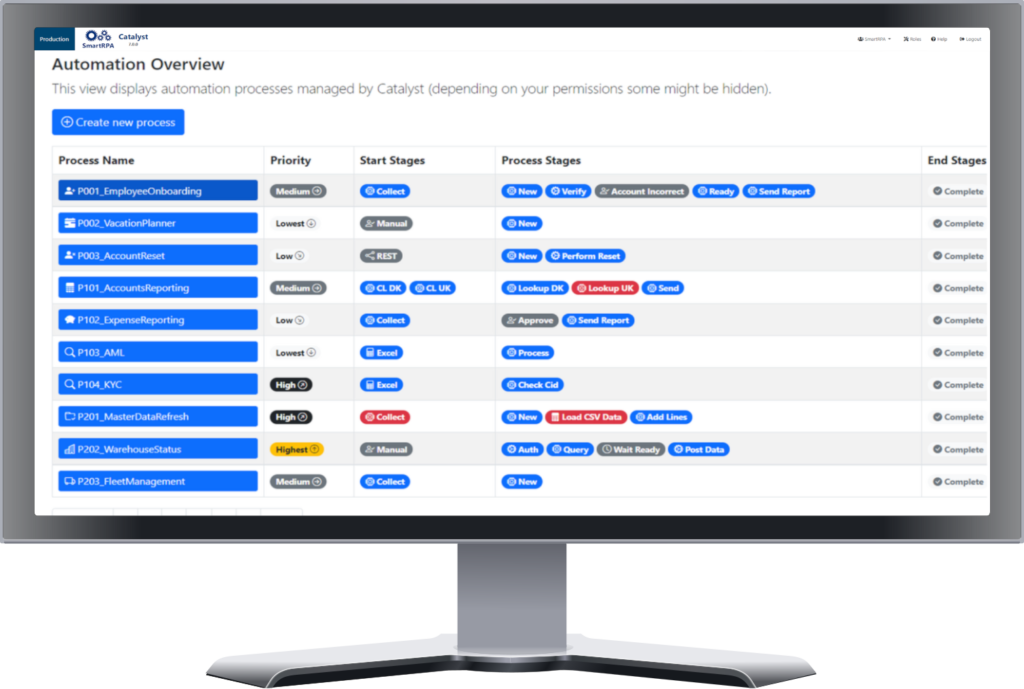 RPA processes are of the overengineered in an effort to active the highest degree of automation
Processes are constructed into one single automation where all logic, error, exceptions, and workflow are handled.
Designing, running and maintain such process is both time consuming and introduces a high degree of complexity.
Also commonly adopted, is designing RPA processes to automate the entire process using one RPA platform – which is not necessarily the best way to engineer automations.
The use of API's, code or other tools are often neglected – bypassing the opportunity to achieve a higher degree of automation and robustness by not applying the best tool for the job.
Catalyst provides an open framework where larger complex processes can be split into simpler and more robust parts.
Catalyst can select and automate each element of the process and the automation mechanics best suited for the individual tasks.
Catalyst breaks process into micro tasks, making the entire automation more resilient, robust, and easy to develop and maintain.
Open connector framework
Best-of-breed – use the tool that is best for the job
Human-in-the-loop – integrate a human in the process where and when needed
Multi-vendor management – one interface for all automations
Catalyst functionality is exposed as API's
Get in touch with us today